Welcome to ABC Grinding
For over 40 years, we at ABC Grinding have specialized exclusively in industrial cutting knives and blades. Our sole business is to manufacture, sharpen, and sell all types of machine knives and blades used in the plastic, rubber, recycling, packaging, printing, paper converting, metal working, wood working, and food processing industries.
Our highly skilled staff uses the latest in CNC knife grinding and honing technologies to grind and superfinish hone knives that yield the sharpest cutting edge possible. Knives with our well-known "ABC Grinding" edge feature a mirror finish that cuts cleaner and lasts longer giving our customers a competitive edge.
Our engineers are experts in matching a specific cutting application to the best metallurgical requirements, so we routinely guide our customers in choosing the best blade material and hardening process to manufacture a blade that performs better than expectations.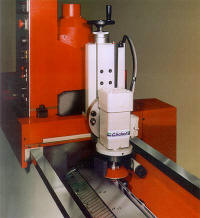 Our sole business is to manufacture, sharpen and sell all types of industrial knives, blades and cutting supplies.